---
Take note of these tips before signing up for the Internet
Moving house either indoors or outdoors outside the country This means, among other things, registering all the utilities in the new home. Whether you are going to rent a house or you have already taken the steps to buy your own property, you will have to contract the telecommunications service. Do you know how much the company will charge you for contracting this service? Read on and we'll tell you all about it.
What do I need to set up Internet in my new home?
Over the years, the process of Internet contracting has been greatly simplified, making it a fairly straightforward process that only takes a few minutes. This is especially true if you moves to Madrid, Barcelona o you do national removals to busy cities.
Now, the operator only needs a few pieces of information to start the process of registration or portability. They are shown in the following list:
First name, surname and date of birth.
Bank account number (for monthly payments).
Landline telephone number (if you want to keep the number associated with the Internet connection).
Internet installation time
When it comes to contracting an Internet connection, One of the most common problems is to know when the service will be available.
Well, the Internet installation time The timeframe for each company is different, but in general, it is not usually many days.
Most companies set a maximum Internet installation period of 30 days.
However, the Internet installation It usually takes no more than two weeks and, in many cases, it takes about 5 working days.
This difference in installation time is mainly due to two factors: the condition of your home and the availability of installers in the area.
The cost of having Internet at home
There are obvious costs associated with the Internet contract. For example, you have to pay monthly for the chosen tariff.
However, there are other possible costs, such as registration or installation. However, companies often bear these costs in order to attract customers.
The cost of transporting equipment may be another aspect to be paid at the time of contracting Internet. Some companies charge for it and the price can range from 6 to 12 euros.
Internet connection types
The Internet connection is becoming the most important telecommunications service for consumers. Therefore, there are more and more ways to provide Internet service depending on the case. Below is a list of the main methods of connecting to the Internet:
Optical fibre: Compared to other connections, fibre optics has the highest speed and the highest stability, making it the best way to log on to the Internet today. However, prices are somewhat higher, Fibre optic options are becoming more and more widely available.
ADSL: Until the arrival of fibre optics, this was the most widespread method. Its speed is slower, but it is still a good option for contracting Internet.
4G Internet: Designed for those who do not want to establish contact with a landline or always connect at home. The disadvantage of buying 4G Internet is the limited amount of monthly data. But in some cases, 4G Internet can be better than ADSL.
Satellite Internet: For users who cannot access coverage through other methods because they live in rural areas or areas with inconvenient transport, they can opt for this Internet rental option.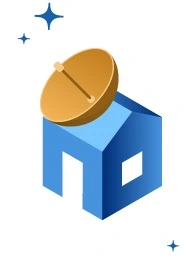 To connect to  Satellite Internet, although this option requires a custom installation, it has the ability to provide Internet coverage to any location. However, the remaining connections mentioned above have some restrictions in the Internet coverage at the geographical level.
 Tips before installing the Internet
 There are several factors to consider before signing up for any fibre optic contract with the various operators. Due to the lack of information in the contracting process, we have all experienced some inconveniences. Therefore, here are the key points to help you review before you regulate the contract:
Check the coverage in your home. Check if fibre is available and with which companies it works. Even if the optical fibre offers better performance than ADSL, it still cannot cover all households. Even if fibre optic connects to a company, it does not mean that fibre optic connects to you.
Make sure what is included in the offer prices: If they are final prices, i.e. if they already include VAT and line rates.
If you think you are interested in any offer In concrete terms, be sure to ask how long the promotion will last and how the price will be maintained after the promotion.
In general, these companies provide routers and facilities free of charge, but it is worth checking these points with the telephone advisor making the offer before proceeding with the contract.
This need not be a negative, as almost all companies do so, and it is usual that the permanence does not last more than 12 months.
---
These are tips offered by GIL STAUFFER, your removal company since 1905.