---
How to pack the perfect suitcase for every occasion: Take note of our tips for your suitcase or for moving house
It's happened to all of us more than once. A weekend away from home, a simple plan and... three suitcases. A mess that gets more complicated if we have to pack our luggage to move house. But don't worry, because experts and travellers offer a series of tips that we are going to try to summarise here and that will be useful for each and every one of the plans or reasons that lead us to start a trip.
It may sound a bit too meticulous and perhaps a bit overdone, but on all occasions when you have to organise a number of things, it is good to have a pen and paper at hand, a tablet or an application of block Why? Because making a list is essential in order to be able to manage all the details in a certain order. It seems obvious, but writing down everything you need will help you to visualise perfectly what you need and what you don't need in each case. What's more, if you write this list on your computer, you will be able to use the list later, modifying only what is necessary depending on what you need at any given moment, and the work will be much less.
Issues to be taken into account:
On the road
Where are we going?
It is true that, even if our destination is, for example, to go to the beach, it may rain one day. But that doesn't mean we have to pack a parade of winter clothes in our suitcase just in case. We may have that new coat or that cool jumper we just got as a present, but they shouldn't be travelling companions. Maybe one, but now. In other words, try to pack in your suitcase only the clothes you will actually wear.
What is the plan?
If we go over the days we are going to be away, it is a good idea to schedule the possible plans that we are going to make or that may arise as we go along. This means that if there is a formal dinner, an event, or something that requires us to wear something different, we should wear it, but be careful! We try it on at home and decide before going out. No more wearing three outfits to see which one to wear. It's all about rationalising space according to days that you are going to be on the road without going overboard with the "just in case".
At a glance
One thing we tend to do is to pack on impulse, but it is almost always a mistake to do so. Ideally, it's best to place everything on the bed What we are going to take with us to visualise it beforehand. The order...? Very easy, always following this pattern: shoes, belts, accessories, toiletries and then clothes.
For organising clothes think in order from head to toe, i.e. shoes, socks or stockings, trousers or skirts, T-shirts, shirts, jumpers, dresses and jackets or coats. Multiply the outfits according to the number of days you will be at your destination and add pyjamas. You would already be your holiday wardrobe ready.
Two things to bear in mind when choosing suitcases
If our trip is going to require us to move from hotel to hotel, from city to city or from transfer to transfer, let's try to use a large suitcase so that it is not necessary to carry several pieces of luggage at the same time. Also if we are going to a destination where we are going to stay for a long time, this will be the best option to avoid having to carry several suitcases until we reach the end of the journey. In these cases, we can take with us a backpack or handbag comfortable with the essentials, as you know that sometimes suitcases travel to "other destinations" and, in this sense, it is better to be safe.
If, on the other hand, we are going to a destination where we are only going to stay for a weekend or a long weekend, the best option is a small suitcaseIt is for all intents and purposes more practical.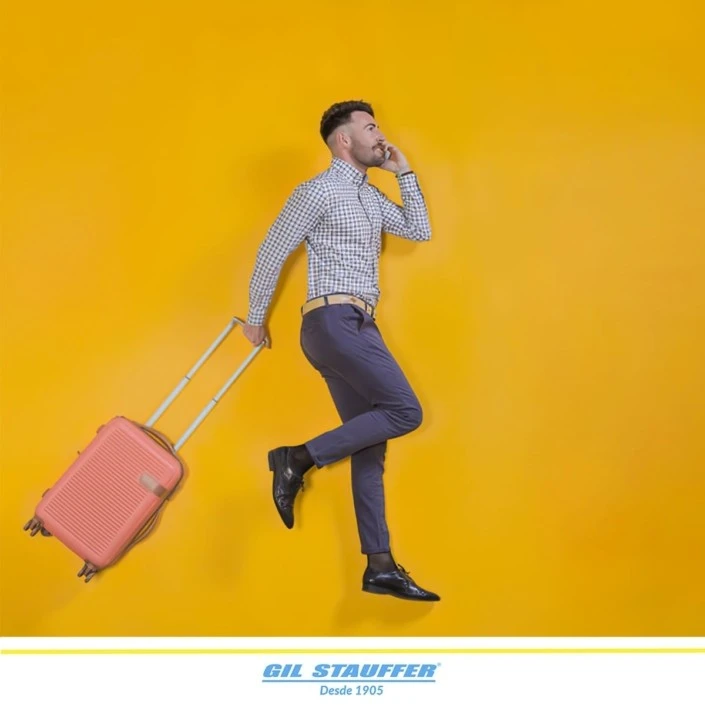 Second, the means of transport
The baggage restrictions on aircraft If you're not checking in, you may be in for a surprise when it comes time to check in, and your trip may be more expensive than expected. Keep in mind that almost all airlines allow up to 23 kilos per bag, although RyanAir, for example, lowers it to 20. But if you're not checking in, cabin baggage restrictions are quite limited. Be sure to inform yourself in advance of the weight and measurements allowed. for each company.
Regarding whether to use hard or soft suitcaseThere are two keys to weigh up: The hard one protects what's inside more, but usually weighs more by itself. The soft one is more generous if we need to fill it more. It's up to you to decide.
Tips and tricks for packing the perfect suitcase
The shoes in bags to prevent them from staining clothes.
We can use the inside of the shoes or the gaps left in the bags to store accessories, telephone cables, gadgetsetc.
Beware of grooming products we carry in our hand luggage! If you are travelling by plane, there are serious restrictions. In any case, be careful not to carry large containers and be careful not to spill liquids.
If you travel as a couple Divide your clothes into two suitcases, so that if one is lost, it will be less of a problem.
When it comes to buying luggage, be original. Look for one that isn't from colours popular so you can better differentiate them when the dreaded baggage claim moment arrives. You can also add your own distinctive stickers or brightly coloured ribbons to set them apart from the rest.
Leave some hollow because in the end, you will buy something.
Finally, make sure you unpack as soon as you arrive at your destination. That way, your holiday will start right then and there.
Moving: Hand luggage
Apart from travelling, another situation where you need to pack a perfect suitcase is the day you move house.
Here's what you should include in your hand luggageThe removal company will pack everything up the next day:
Small toilet bag including: toothbrush and toothpaste, comb and other essential toiletries.
Pyjamas.
A mute.
A pair of socks.
Comfortable clothes for the next day.
Personal documents, jewellery, cash, bank cards, property or securities, mobile phone, laptop or laptop computer, etc. tablet and anything else that might be of value.
It will be useful to have a tape measure at hand at all times so that you can measure for unforeseen events.
Other tips related to removals
If you are going to make a local or national removaltake note of these tips. If you are moving to a new location, you may be able to benefit from our tips on the positive aspects of moving to another city.
If you move to another country we offer you our tips for international removals and you can also take a look at our recommendations for happiness abroad.
Wherever you move to, you will need to sort your clothes in the wardrobes of your new home, so take note of our ideas for a well-organised wardrobe.
Gil Stauffer carries more than 115 years helping families move their lives from one part of the world to another. Count on us and we will help you through the whole process.
---
These are tips offered by GIL STAUFFER, your removal company since 1905.