---
Combined removals and exclusive removals How do they differ?
When it is time to move to another city, it is important to consider several factors. Before comparing offers and prices, it is important to decide on the type of service we need and whether, for example, it is more suitable for us to hire a combined or exclusive removal service.
What is a combined move?
A combined move implies that the vehicle that is to perform transport will be shared between several clients; in other words, your belongings will not be the only ones travelling in that lorry or truck. container. This option is more suitable for those users who are not able to fill a container with their belongings.
This type of move is also known as transportation in groupageThis is completely safe, as the different consignments are perfectly identified and labelled. This is a very popular mode of transport because it is also more economical and the only disadvantage is that it is difficult to calculate the exact time it will take for your move to arrive, as it depends on hiring other customers whose belongings are going to the same destination as yours to fill a lorry or sea container. In this regard, moving companies usually indicate delivery times about a month. However, you should never be sure of a date, as this can also vary depending on the origin and destination of the belongings, the resources available to the company, the number of vehicles available, and even the season in which you are moving, as there are always many more removals in summer or coinciding with holiday periods than at other times of the year.
What is an exclusive move?
On the other hand, a exclusive removal is one in which the furniture and personal belongings travel in an exclusive lorry or container and the removal leaves from the origin and arrives directly at its destination with all your belongings. In other words, you do not share the same transport with other clients. This is a exclusive service for you.

Advantages of making an exclusive move
Undertaking an exclusive move, also known as a private removal or individual moving, has several advantages compared to other shared or collective moving options. Here are some key advantages of opting for an exclusive move:
Increased Attention and Care
Opt for a exclusive move to Madrid or to any part of the territory means that your belongings will be the only loads on the truck. This means more attention and care from professional movers.
By not having to worry about handling multiple loads, the likelihood of damage or loss is significantly reduced. Moving teams can devote more time and effort to ensuring that your items arrive at their destination in perfect condition.
Less Manipulation
In an exclusive move, your belongings will not be mixed with those of other customers in the truck. This means less handling in terms of loading and unloading, which reduces the risk of breakage and damage during the process.
The load is organised more efficiently, avoiding unnecessary movements and reducing the possibility of objects being damaged by constant moving.
Flexible Programming
One of the advantages of an exclusive move is the flexibility in scheduling. You can choose the date and time of the move according to your own needs and schedule.
This allows you to plan the move conveniently and make sure it fits into your schedule, which can be especially useful if you have work commitments, family commitments or other important events.
Predictable Delivery Time
Because there are no intermediate stops or additional deliveries in a dedicated move, the delivery time of your belongings is more predictable.
You won't have to worry about delays caused by other customers or unexpected stops. This certainty of arrival time is valuable, especially if you need to be at your new destination by a specific deadline.
Security and Privacy
The privacy and security of your belongings are a priority in an exclusive move. By not sharing space with other cargo, your personal and valuable items are protected from prying eyes and possible theft.
This provides peace of mind and confidence that your belongings are being treated with due discretion and care.
Stress Reduction
The uniqueness of an individual move can go a long way towards reducing the stress associated with the moving process. removal.
Knowing that your belongings receive personal attention and that the focus is on your specific needs can alleviate the worry and anxiety that often accompany moves.
Increased Carrying Capacity
An exclusive move has no restrictions on shared space. This means that you can take all your personal items, furniture and belongings without worrying about the space available.
You'll have peace of mind knowing that there will be no limitations on the amount of stuff you can move.
Packaging Flexibility
In a dedicated move, you generally have more control over how your belongings are packed and how they are secured on the truck. This is beneficial if you have fragile, valuable or unusual items that require specialised packing. You can work with professional movers to ensure that your items are properly protected during transport.
Personalised Attention
An exclusive move provides the opportunity to receive personalised attention. The removal teams can be tailored to your specific needs and preferences.
If you have special requests, such as the delicate handling of certain objects, they will be able to fulfil them more effectively because of the individual attention they can provide.
Less Possibility of Mixing or Loss
Opting for an exclusive move minimises the chance of your belongings accidentally getting mixed up with other customers' belongings or getting lost in the process.
As the only load on the truck, it is easier to track and keep track of your items at all times, increasing security and peace of mind during the move.
Conclusion
If we were to compare the way our stuff travels with the way we travel, we could say that an exclusive move is like travelling in business and a move in combined service how to travel in tourist mode.
The choice is yours!
GIL STAUFFER has been moving lives from continent to continent for more than a century: If you're taking the final step, apply now! budget for your international removals y national with the best professionals! We will help you through the whole process.
Always in our eagerness to make your move easier, we recommend you also read these tips that will surely be useful if you are going to move: Tips for your move.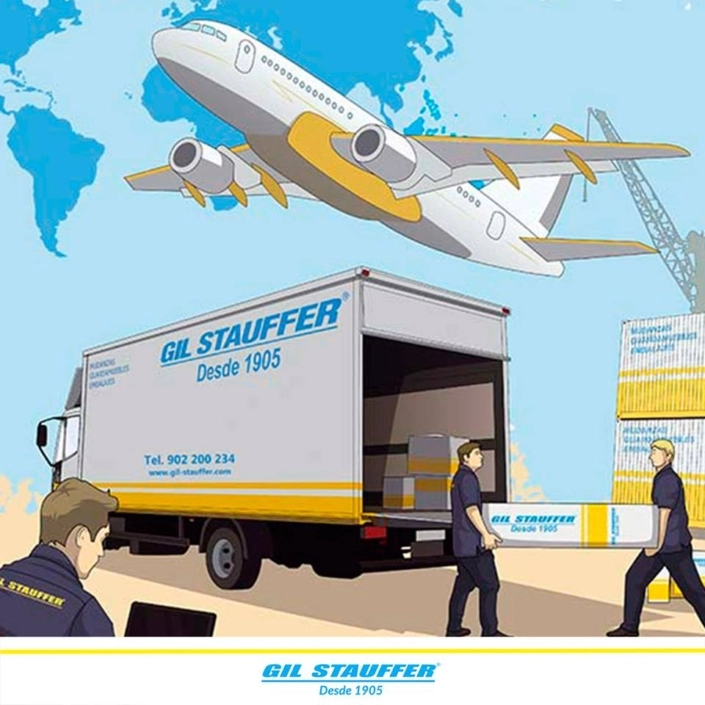 ---
These are tips offered by GIL STAUFFER, your removal company since 1905.