---
Moving house can be an exciting but stressful time for the whole family, especially for our beloved pets. The change of environment, new routines and the anxiety of feeling out of their comfort zone can affect our pets, so it's important to be prepared and take steps to make the transition as smooth as possible. In this article, we'll give you some tips to help you plan your move with your pets in the best way possible.
When it comes to moving to a new home, it can be a challenge for anyone, but if you have pets, the move can be even more complicated. Here are some tips to make the transition as smooth as possible for your furry friends.
Tips for moving with your pet
Planning
Before you start moving, make sure your pets have everything they need. Make sure they have enough food and water, and make a list of necessary supplies such as beds, toys and leashes. You should also make sure your pets' medical records are up to date and that they have all necessary vaccinations.
Packing your utensils
Pack your pets' supplies in a separate box so you can easily find them in the new home. Make sure toys and beds are clean before putting them away and mark the box with a marker so you can find it quickly.
Transport
When transporting your pets to their new home, make sure they are safe in the vehicle. Dogs can travel in a crate or safety harness in the back seat. Cats should be transported in a cat carrier or carrier bag.
In the new house
When you arrive at your new home, take your pets directly to a safe and comfortable room. If you have cats, place their litter box, water and food in the room. Dogs also need a safe place to rest and relax while they explore the new home.
For cats 🐈
It is important that cats feel comfortable in their new home. Provide a clean and familiar litter box for them to relieve themselves. It is also advisable to provide a box or bag for them to hide in and feel safe.
For the first few days in the new home, keep the cats in one room and let them get used to the new environment.
Gradually, you can allow them to explore more areas of the house, but be sure to supervise them and do not let them go outside until they are fully accustomed to their new home.
For dogs 🐕
As with cats, it is important to provide dogs with a safe and comfortable place in their new home. If possible, bring some of their favourite toys and beds to make them feel more comfortable. Be sure to supervise them as they explore the house and don't leave them alone for extended periods of time.
It is important to remember that some dogs may experience separation anxiety in the new home, so try to keep your dog's routine as close as possible to what it was like before the move. Walk your dog on the same route and at the same times as before the move.
To reduce the stress of pets moving house, take note of these tips
Moving house with pets is complicated no matter how organised those of us who live with them are. It is inevitable that these creatures will be stressed during the move, because emotions are running high, both for people and for their pets.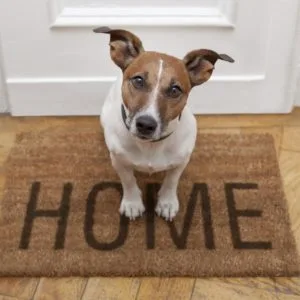 However, nervousness can be avoided to some extent. That's why we thought it would be good to provide you with 5 basic guidelines to try to keep your pets as stress-free as possible during the move:
Take a deep breath and try to relax yourself.
Pets pick up on all the emotions and feelings of their owners, and if the owners are nervous during the move, they will be too.
Protect your pets during the move
Keep an eye on your pets when moving boxes or furniture and the doors may be open, or even try to prevent them from becoming distressed with so much movement inside the house. In any case, it is best that the animals are not present on the day of the move. Look for relatives or friends who can take care of them during the move to the new home.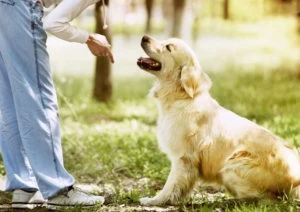 Try to distract the animals
It is a good idea to buy a new toy for your pet to keep it entertained during the move, although as we said before, it is best to ask a family member, friend or acquaintance to help entertain it or take it for a walk while the move is taking place.
Try to stick to your usual routine
Although it may be difficult, just as it is for us humans, whether we are big or small, keeping a daily routine, especially in terms of their walking and eating schedules, helps animals a lot.
Move all pet supplies to the new house.
It is important that pets recognise where their place is as early as possible. That's why their things should be in their new home before they enter the house. This will put them at ease and they will quickly get back into their routine, avoiding extra stress.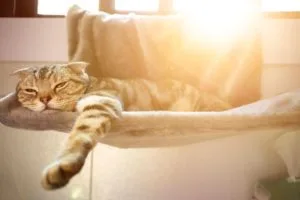 On another note, if you would like us to help you and your family and friends move home, don't hesitate to contact us. Don't forget to ask us for a quotation.
Long-term adaptation
It can take time for your pets to adjust to a new home, especially for cats. Be sure to give them lots of love and attention, and try to keep their routine as consistent as possible. You may also consider using pheromones to help reduce your pets' stress.
In general, moving can be a stressful time for your pets, but with a little planning and patience, you can ensure that the transition is as smooth as possible. Remember that your pets rely on you for their safety and well-being, so be sure to give them all the love and care they need during this process of change.