---
How to store your shoes properly during a move?
When the time comes to move house, we realise how much of our belongings we have generally accumulated over time. Among other things, clothes and shoes accumulate in our wardrobes and when we move to a new home, as a rule, we find that we have a lot of items that are out of fashion or that, for one reason or another, we no longer use.
When the family has several members, shoes are also needed for various activities and the amount of shoes that can be found in a single house can be really impressive. This is intensified when there are children in the family. fashionistas. If you are and you don't have at least 30 pairs of shoes in your wardrobe, something is wrong with the course of the universe.
Tips for storing your shoes
So, if you are planning to move house and you don't want your shoes to deteriorate or suffer damage, take note of these recommendations for storing your shoes in the most appropriate way: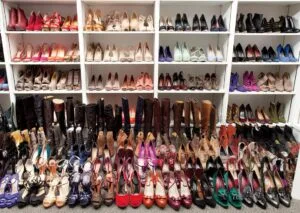 Where to start?
The best thing to do is to take all pairs of shoes out of your wardrobe and start by carefully cleaning them.
Then put each pair in a row on the floor so that, at a glance, you can tell which ones you will actually use from now on.
The rest, if they are not damaged, sell them on a second-hand website or donate them to an NGO. There will always be people who can make use of them and you will be doing a good social action.
Set aside the damaged ones in a rubbish bag and, when you have finished sorting, take them to the recycling point.
If you keep the original boxes of your shoes, store each pair in its corresponding box to preserve them properly. The removal company will put these boxes in larger boxes specifically for removals, so that your shoes will travel correctly during the move.
But if you are moving by your own means or, perhaps, you don't have the initial packaging, you can buy special plastic boxes for this purpose and your shoes will be protected from humidity, dust or dirt in general during the move.
Before the move, place the shoe boxes next to the clothes boxes so that they are transported in the same trip and identify one of these boxes with the clothes and shoes you are going to wear the next day. This way you won't lose your sanity looking for the things you wear to work when you wake up for the first time in your new home.
Don't forget that shoes should not be packed with liquids of any kind, nor should they be packed with furniture or other heavy objects. Your shoes could be damaged.
Have each family member or household inhabitant follow these steps as well. If you live with roommates, this can be taken for granted, but if not, have your family move in as roommates.
If you follow these tips, you'll be able to save space during your move and you'll be able to easily arrange your useful shoes in the shoe cupboard in your new home.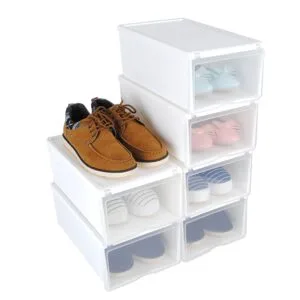 At Gil Stauffer we have been moving both nationally and internationally since 1905. We have the means and professionals with extensive experience. If you would like us to help you with your move, do not hesitate to contact us.  Request a quote free of charge and without obligation.
---
These are tips offered by GIL STAUFFER, your removal company since 1905.